G-Lock Email Analytics: Quick Startup Guide
Using G-Lock Email Analytics to Track Email Campaigns
Good email senders understand the importance of a regular and accurate email campaign tracking and analysis. Using email analytics you can measure your email campaign performance over time, control its effectiveness and plan your future campaigns focusing on the recipients' interests. Email tracking is a fast and simple way to optimize the email design and layout, promotional offers, and links to the audience's preferences.
G-Lock Analytics makes this easy as never before. G-Lock Analytics is the powerful email tracking service helping email marketers improve their email campaign targeting, conversion and revenue. You can track, evaluate and analyze email tracking results using comprehensive graphs and charts. Realtime email analytics reports will show you how effective your emails are. It's simple and easy to use so that anyone can start benefiting from G-Lock Analytics in just a few minutes.
You can use our email analytics service with any email marketing software. If you use G-Lock EasyMail7 email marketing software, the process is done almost automatically. It takes just a few mouse clicks to send an email with the tracking code inside.
The best part is that EasyMail7 with G-Lock Email Analytics uses the encrypted recipient's email address in the tracking links to enhance Inbox delivery because modern anti-spam filters may block email messages with links containing an email address.
The unsubscribe process is handled online. And EasyMail7 can automatically add unsubscribed contacts collected by G-Lock Analytics to Global Exclusion List and unsubscribe those people in the EasyMail7's internal groups.
How to Start with G-Lock Email Analytics
To get started with G-Lock Email Analytics, first you need to signup. After you signup, follow the directions in your account to download the redirect script and put it to your website. If you put the redirect script to your site, tracking links that you will use in your emails will contain your domain and will look friendly for your recipients.
After you uploaded the redirect script to your site, the next step is adding a campaign. A campaign is the message that you will send and track. Email analytics for the message will be stored in the respective campaign.
Now simply copy the tracking image code and paste it into the message source. Then add your regular links to G-Lock Analytics, convert them into the tracking links, copy the tracking links and use them in your email.
Copy-paste the unsubscribe link if you want to collect unsubscribe recipients. Send the message and start collecting email tracking metrics in real time.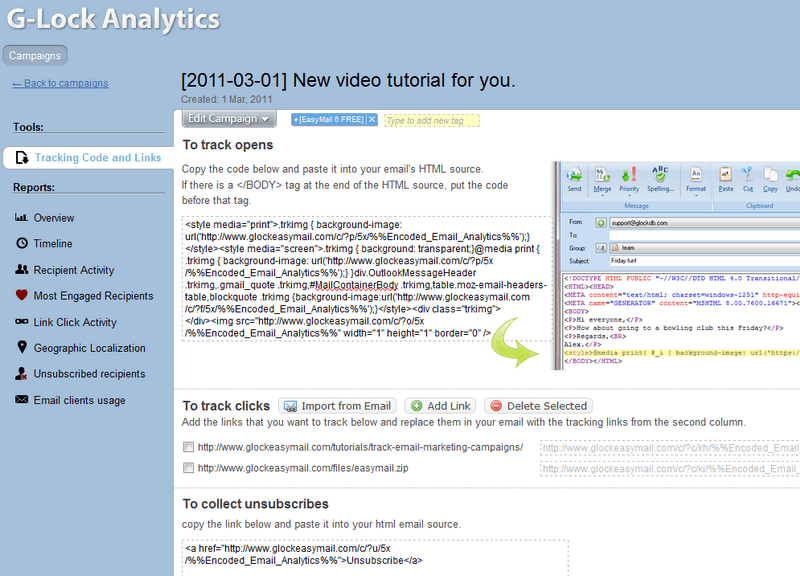 What You Get from G-Lock Email Analytics
Using G-Lock email analytics, you can track each email you send as a separate campaign so that you will clearly see which message performed better. Beautiful real time stats show up in seconds after you sent the email.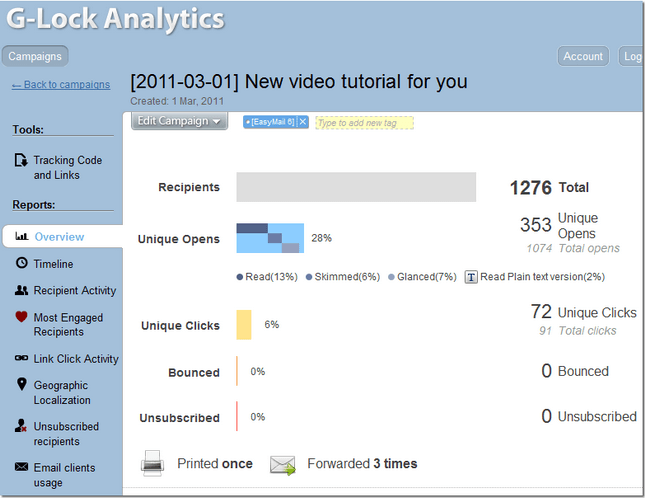 From our useful email analytics reports you will know:
Who opened the email. G-Lock Analytics breaks down your open rate to show you what portion of your list read the email compared to what portion quickly skimmed it and what portion of the list deleted the email almost instantly after opening it. And the great thing is that G-Lock Analytics breaks down the stats by hours, days or months. This helps you understand at what time and day your recipients are most active and plan your future email campaigns sending time accordingly.
Who printed and forwarded the email.
Who clicked links inside the email and which links were clicked. The best thing is that you can track link clicks using your own domain.

Who your best recipients are. You can define the criteria [number of opens] to determine your most active recipients yourself. These email tracking metrics allow an easy email list segmentation in ways you have never thought about. You can export your best recipients, load them into a new list and send a follow-up email to them offering some stuff they may be interested in. Or vice versa, you can add your active recipients to the exclusion list and send a re-engagement email to the rest of the list.

Where your recipients are from. G-Lock Analytics traces the countries opens come from and summarizes the results in the Geographic Localization report.

What email clients your recipients use to open the email. Did they use a web account? Mobile device? Desktop email client? Check the "Email Client Usage" analytics report for accurate information. Why would you need email clients tracking? To focus your testing efforts and save your time. These stats allow you quickly optimize your email message for the most used email clients so that the majority of your subscribers get a good looking message. If you see that only a tiny part of your recipients open the email on a mobile device, you don't want to spend your time for tailoring your layout for mobile devices.

Who unsubscribed. If you don't have an unsubscribe management system, our G-Lock Email Analytics service provides you with the way to collect unsubscribe recipients. Simply copy-paste the unsubscribe link into the email. The recipients who unsubscribed will be collected into your "Unsubscribed Recipients"report. You can export them to a file with two mouse clicks.
G-Lock Email Analytics dramatically enhances the abilities of email marketers in retaining and converting customers, building relationship with their lists. You don't want to send your email marketing campaigns blindly. Using G-Lock Analytics you can easily discover how your recipients treat your messages, find simple ways to more effectively tailor your promotional messages to your subscribers' preferences, get maximum profit from your active recipients and increase your return on investment. Start using G-Lock Email Analytics today and take control over each message you send.
Tags: email analytics, email tracking, track email clicks, track email opens