Email Tracking Service Review
Why Use Email Tracking
Marketing via email is probably the quickest and cheapest form of marketing at the present time. You can reach people all over the world with just a single mouse click and spread the word about your product or service. But after you sent the email, have you ever wondered what happened to your message? Was it delivered and read by the recipient? Here is when email tracking comes into play.
Email tracking is a method for measuring email delivery and recipient's response to the message. Email tracking is helpful when the sender wants to know if the targeted recipient opened the email and clicked the links in the message. 
Email campaign tracking is used by individual email marketers as well as by small and large organizations. In most cases companies track email campaigns to determine the effectiveness of their sales and promotional newsletters. Sometimes email tracking helps understand the subscriber's specific area of interest. For example, if you include links to several products into the message, you can see which links are mostly clicked and get a picture about the recipient's preferences.
There are numerous email tracking services on the Internet such as ReadNotify, GetNotify, eMailTrackerPro, DidTheyReadIt. Some email marketing tools, for example Constant Contact, already include email tracking as a feature.
How Email Tracking Works
Email messages are usually tracked using standard web tracking devices such as cookies and web beacons. The email tracking system inserts a tiny, invisible tracking image (called a web beacon) into the HTML source of the message. It's important to remember that email opens can be tracked only for HTML emails. When the recipient opens the message, the tracking image loads and email tracking software registers an open.
To track link clicks, email senders use links containing specific tracking code provided by the email tracking system. When the recipient clicks a link, the tracking code is activated.
Each open and click generates a separate tracking event which is recorded by email tracking software. With time these events accumulate in a database and the email tracking service can report such tracking metrics as open rate, click rate and click-through rate. Email senders can view summarized email tracking statistics as well as individual recipient activity upon the message.
What is G-Lock Analytics?
G-Lock Analytics is an extremely sophisticated email tracking service. With G-Lock Analytics you can quickly understand what happened to your emails after they were sent.
With our real time email tracking reports you can get a clear picture of how your recipients treat the message — if they find it interesting, what part of the email they like more, etc. For instance, if you are selling products online, and you send out a regular newsletter with a list of new products, you could use G-Lock Analytics to see what your customers are most interested in.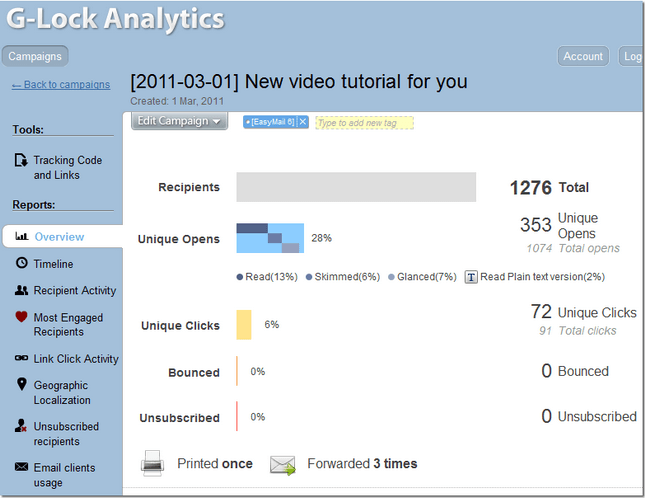 Besides the standard email tracking metrics such as open rate and click rate, our email tracking software reports you how many times the email was printed and forwarded. Plus, it can trace the geographical location of the recipient so you will understand what countries your subscribers are from.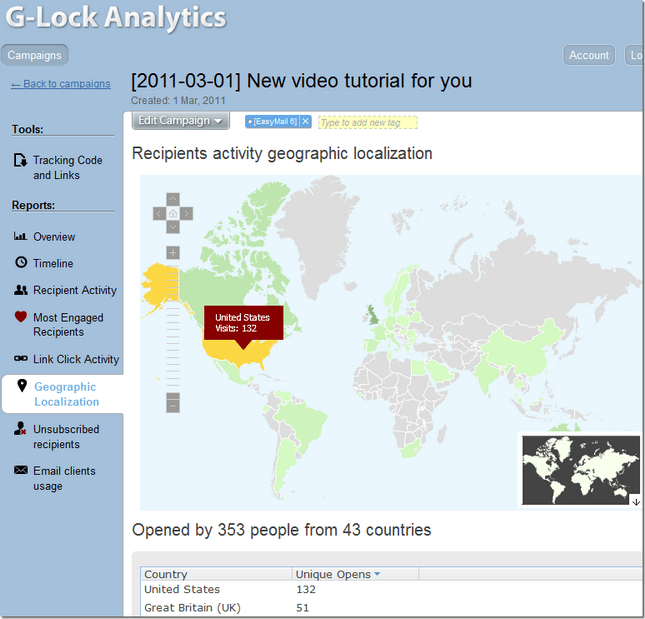 In addition, you can get a report what email clients your recipients used to open the message. Why is it useful? Because you can save your time by customizing your message for the most used email clients only.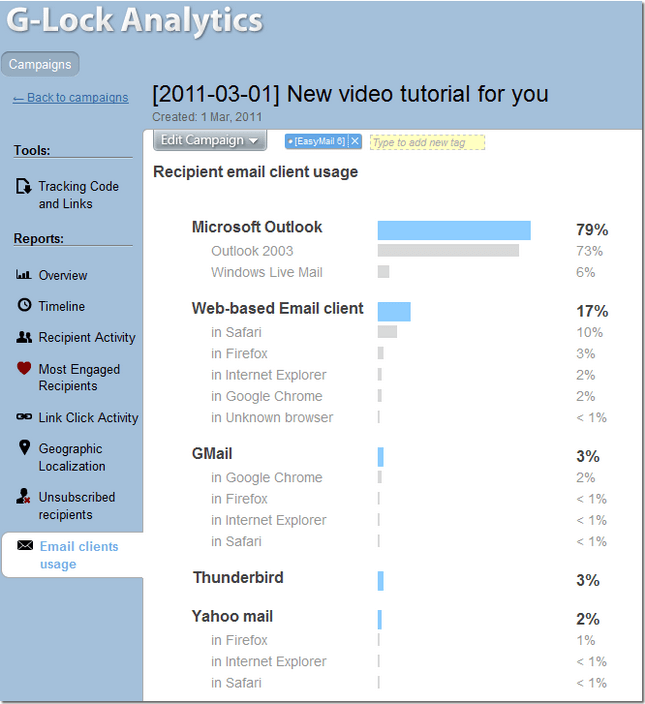 The great thing about G-Lock Analytics is that you can use this email tracking system with ANY email sending program or service. You can even use several email sender programs at the same time and G-Lock Analytics will still collect email tracking metrics to your account. All the stats are delivered to you in real time and you can export email tracking reports to a file at any time.
And the best part is that you can try G-Lock Analytics email tracking service completely free. Just create a free account and start tracking your email delivery campaigns right away.
Tags: email analytics, email tracking, email tracking service review